DAY/NIGHT VISION SCOPE
PORTÉE DE VISION JOUR / NUIT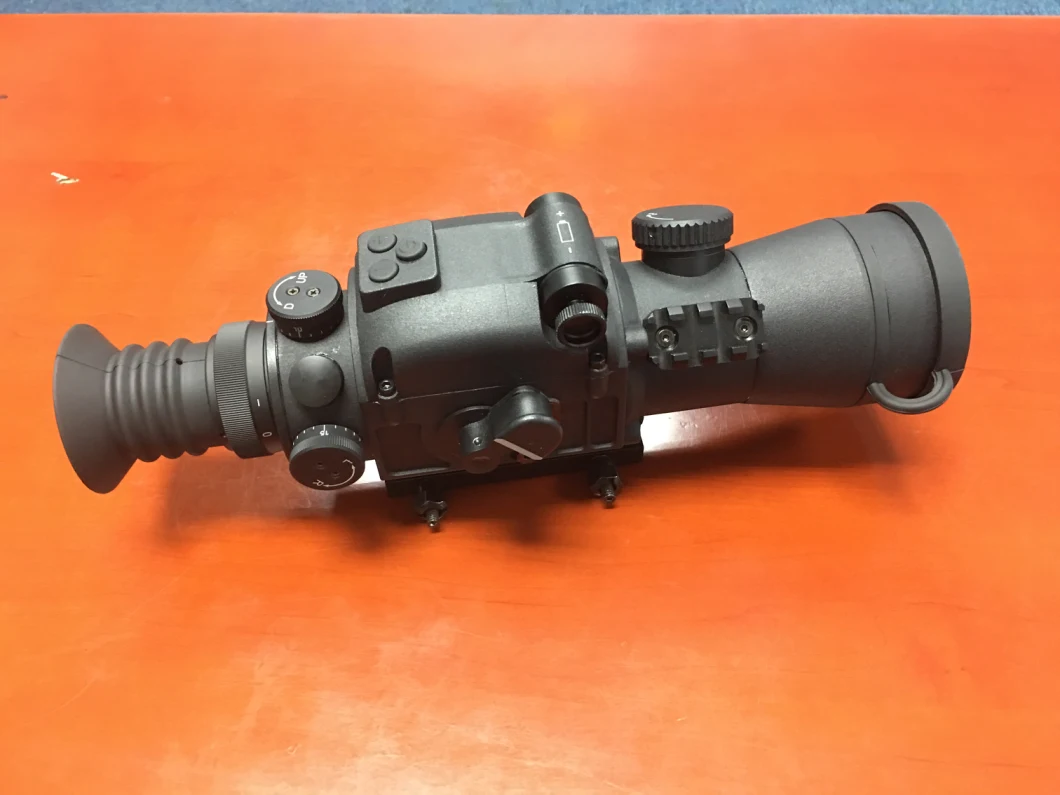 1. DESCRIPTION




1. DESCRIPTION
1.1 The integrated day/night riflescope RS-100 is a day/night sight (hereinafter referred to as the sight) with the set of accessories. The sight is intended for aimed firing during daylight and at night, using large variety of weapons with side mounting or weaver mounting rail.
1.1 La lunette de visée jour / nuit intégrée RS-100 est un viseur jour / nuit (appelé ci-après le viseur) avec ses accessoires. Le viseur est conçu pour tirer de manière ciblée de jour comme de nuit, en utilisant une grande variété d'armes à montage latéral ou sur rail de montage pour tisserand.
1.2 The sight provides detection, recognition, observation of a target and aiming firing in daylight and at night.
1.2 Le viseur fournit la détection, la reconnaissance, l'observation d'une cible et le tir de jour et de nuit.
1.3 The operation temperature range of the sight is from -40 to +50°C and relative humidity up to 98% at temperature +25°C.
1.3 La plage de température de fonctionnement du viseur est de -40 à + 50 ° C et l'humidité relative jusqu'à 98% à une température de + 25 ° C.
2. SPECIFICATIONS




2. CARACTÉRISTIQUES
Magnification




Grossissement

6x

Field of view




Champ de vision

9°

Objective lens focal length/F




Distance focale de l'objectif / F

100mm/F1.5

Objective lens diameter, mm




Diamètre de l'objectif, mm

75

Focus range, m




Plage de mise au point, m

10 - infinity




10 - Infini

Eyepiece focal length, mm




Distance focale oculaire, mm

27

Eyepiece relief distance, mm




Distance de décharge oculaire, mm

50

Dioptric adj. relative to reticle




Dioptrique adj. par rapport au réticule

Fixed -0.5 to -1 D




Fixe -0.5 à -1 D

Windage/Elevation adjustment




Réglage du vent et de l'altitude

±34 MoA*

Windage/Elevation step




Pas de vent / élévation

0.7 MoA *

Man viewing distance, m




Distance d'observation homme, m

>450

Vehicle viewing distance, m




Distance d'observation du véhicule, m

>1000

Image Intensifier Tube




Tube intensificateur d'image

18 mm, Gen 2+ or 3

Tube resolution lp/mm




Résolution du tube lp / mm

Mini 57

Power supply




Source de courant

3V (1 x CR123)

Battery life




Vie de la batterie

up to

60 hours

Operations temperature




Température des opérations

-40°C to +50°C

Storage temperature




Température de stockage

-50°C to +60°C

Waterproof construction




Construction étanche

Yes

Dimensions (w/o mount), mm




Dimensions (sans montage), mm

318x98x112

Weight (w/o batteries), kg




Poids (sans piles), kg

1.700
3. DELIVERY SET




3. SET DE LIVRAISON
Item




Article

Quantity




Quantité

RS-100




RS-100

1

Weaver or side fail mount (optional)




Weaver ou montage latéral défaillant (facultatif)

1

Wrench (optional)




Clé (optionnel)

1

Battery (optional)




Batterie (optionnel)

2

Allen key




clé Allen

1

Drier




Déshydratant

1

Soft cloth




Chiffon doux

1

Bag (optional)




Sac (optionnel)

1

Rubber eye guard




Protection oculaire en caoutchouc

1

Hard Case (optional)




Étui rigide (optionnel)

1

Operational manual




Manuel opérationnel

1

IR illuminator




Illuminateur IR

1